I. TAEKWANG GROUP
This is how Taekwang creates new value in the 21st century.
All year round covered in ice and snow, Mount Everrest is the tallest talking mountain in the world, so it has become a conquest target of four-way climbers. The global market represents our summit of Everest, the challenge that we always strive to overcome.
We want to gain the potential that the global market holds, which is a goal of Taekwang when it was founded 40 years ago, starting out as a shoe maker with the name Taekwang Industrial.
Since then, Taekwang has expanded its business into refined chemicals (Huchems), electricity generation in Vietnam (Taekwang Power Holding), fiber production from new materials (Jeong-san International), and private golf courses. Exclusive (Jeongsan Country Club).
Taekwang is gradually becoming a global enterprise, facing new challenges to create the highest value for the 21st century.
II. HUCHEMS - OVERVIEW
Helping customers to be successful with top products and optimal service
COMPANY OVERVIEW
• Name: Huchems Refining Chemical Company
• Date of establishment: September 15, 2002
• Capital: 40 million USD
• Number of employees: 275
• Homepage: www.huchems.com
PLACE
• Headquarters: 19th Floor, Namsan Tower, 173 Toegye-ro, Jung-gu, Seoul, South Korea
• Factory: 963 Sangam-ro, Yeosu-si, Jeollanam-do, Korea
As a Professional Chemical Company based in Seol and manufacturing plants in Yeosu (Jeollanam-do), Huchems produces a wide variety of products including refined chemicals such as nitric acid, DNT, MNB and ammonium. nitrates, as well as basic chemical products such as ammonia and urea.
Huchems also manufacture and supply volatile catalysts and other environmentally friendly products. The company also actively participates in CDM projects.
This makes Huchems one of the leading companies in the global chemical refining industry.

III. KVF - FORMATION
Taekwang Group has been and will be developing with Vietnam.
With the desire to accompany on the development path of Vietnam,
Not only in the industrial field, with the knowledge and experience of the refined chemical industry serving the world, Tawkwang Group has been expanding its production and business model to new potential fields. in the Vietnamese market. In which, the establishment of Korea-Vietnam Fertilizer Company Limited (KVF) is a proud effort in a long chain of efforts of the group.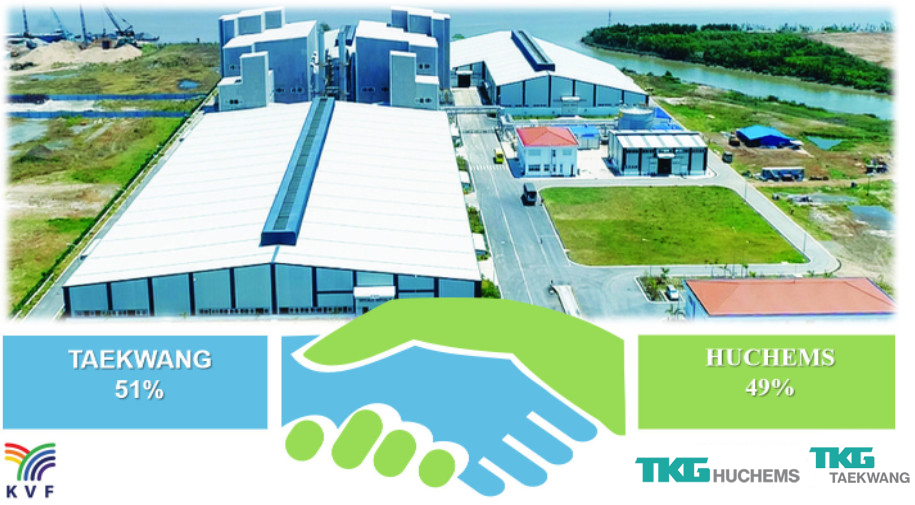 Korea-Vietnam Fertilizer Company Limited (KVF) was formed with the contribution of 51% capital from the parent company - Taekwang Group and 49% capital from another member of Taekwang Group - Huchems.
The Kor-Viet NPK factory was officially put into operation from Dec 2017 to present day. Through its long-term operation, KVF has proven to customers near and far to be a reliable manufacturer, providing a wide range of Korean-Vietnamese NPK products with stable quality and suitable prices. well suited. Always changing to adapt and listen to thoughts and aspirations from dealers and farmers across Vietnam.
As a newly born company but inheriting experience in the field of chemicals and fertilizers from HUCHEMS Korea, ...
NPK HAN-VIET factory is applied with two unique INCRO systems to achieve high quality products.