When it comes to rice, we cannot help but be proud of the long history of the nation that was formed and flourished next to rice.
Vietnam's rice export output ranks second in the world for many years, along with the prestigious awards for top quality rice products in the world.
However, in order to maintain its current position as a rice exporter, rice farming is also facing considerable pressure. One of the ways to increase production productivity is to use fertilizers.
But if fertilizers are used too much compared to the needs of the rice plant, then fertilizer is no longer a yield improvement factor but a potential hazard that seriously affects rice yield.
One of the nutritional factors that, when in excess, will have the most serious and noticeable effect on the growth and yield of rice plants is 'PROM'. Specifically, the effects on each part of the tree are as follows:
LOW : Underdeveloped (less roots, short roots);
BODY: Long body segment, poorly differentiated clavicle;
Foliage: Dark green, large, thin and drooping leaves;
RICE : Poor pollinator, susceptible to attack by diseases;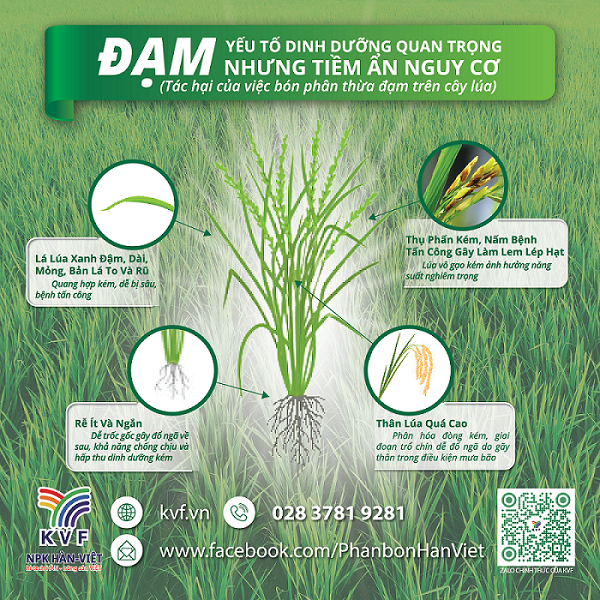 To limit the risk of deficiency or excess of nutrients during rice cultivation. We invite customers and relatives to follow in the next post!!!
#KVF #NPK #NPKKhan-Viet #Korean-Vietnam Fertilizer Co.,Ltd #hitechKorean_Vietnamese agricultural products #Covid-19 #Nutrition #Nutrition #한베비료 #벼농사 #쌀 #벼의영양관리
--------------------------------------------------- -------------------------------------------------
KOREA-VIETNAM FERTILIZER CO., LTD (한-베 비료 유한 책임화사)
Address: Lot D10b, D3 Street, Hiep Phuoc Industrial Park, Hiep Phuoc Commune, Nha Be District, Ho Chi Minh City, Vietnam
Contact: 028 3781 9281
Email: kvf.sales@huchems.com
Website: www.kvf.vn