On March 17, 2021, Korea-Vietnam Fertilizer Co., Ltd (KVF) is very pleased to welcome and have a meeting with the leadership of TTC Group on promoting the development of trading cooperation and sharing technical knowledge. The technique of using high quality Korean-Vietnamese NPK fertilizer for raw cane areas that TTC is investing in at home and abroad. Attending the meeting, on behalf of TTC Group, there were Ms. Huynh Bich Ngoc - Standing Vice Chairman of TTC Group, Chairman of TTC Sugar Board of Directors; Mr. Lee Hyung Jin - Deputy General Director of TaeKwang Vina Industrial Joint Stock Company - Sales Director of Korea-Vietnam Fertilizer Co., Ltd. and Mr. Kim Kwang Chul - General Director of Korea-Vietnam Fertilizer Co., Ltd.
At the factory, KVF gave an overview of the process of formation and development of KVF, as well as detailed the superior characteristics of Korean-Vietnamese NPK fertilizer products compared to other product lines. present in the Vietnamese market. After that, the delegation directly visited the actual production line, finished product warehouse system, automatic packaging system, central control room, listened to the company and factory leaders introduce the scale and Technological characteristics of the plant.
During the meeting at the KVF office, Mr. Kim Kwang Chul was very pleased to hear positive information about TTC Group's sugarcane production and business activities in the 2020-2021 crop year and as well as orientations. developed for the sugarcane crop year 2021-2022. On the side of TTC Group, Ms. Huynh Bich Ngoc said she was very impressed with KVF's annual growth report. Ms. Huynh Bich Ngoc also shared, Korean-Vietnamese NPK fertilizer with high quality and eye-catching packaging design will be a prerequisite to help KVF become a sustainable fertilizer supplier for raw sugarcane areas. which TTC Group is investing domestically and internationally. In order to realize that, TTC's Board of Directors wishes to be actively supported by KVF in practical testing activities, especially in raw material areas lacking irrigation water such as North Tay Ninh area, border areas. Cambodia,…; Promote cooperation in research and application of suitable fertilizer product lines for each material region with each soil and climate condition, in order to reduce costs and improve productivity, helping to bring optimal efficiency. for people to grow sugarcane.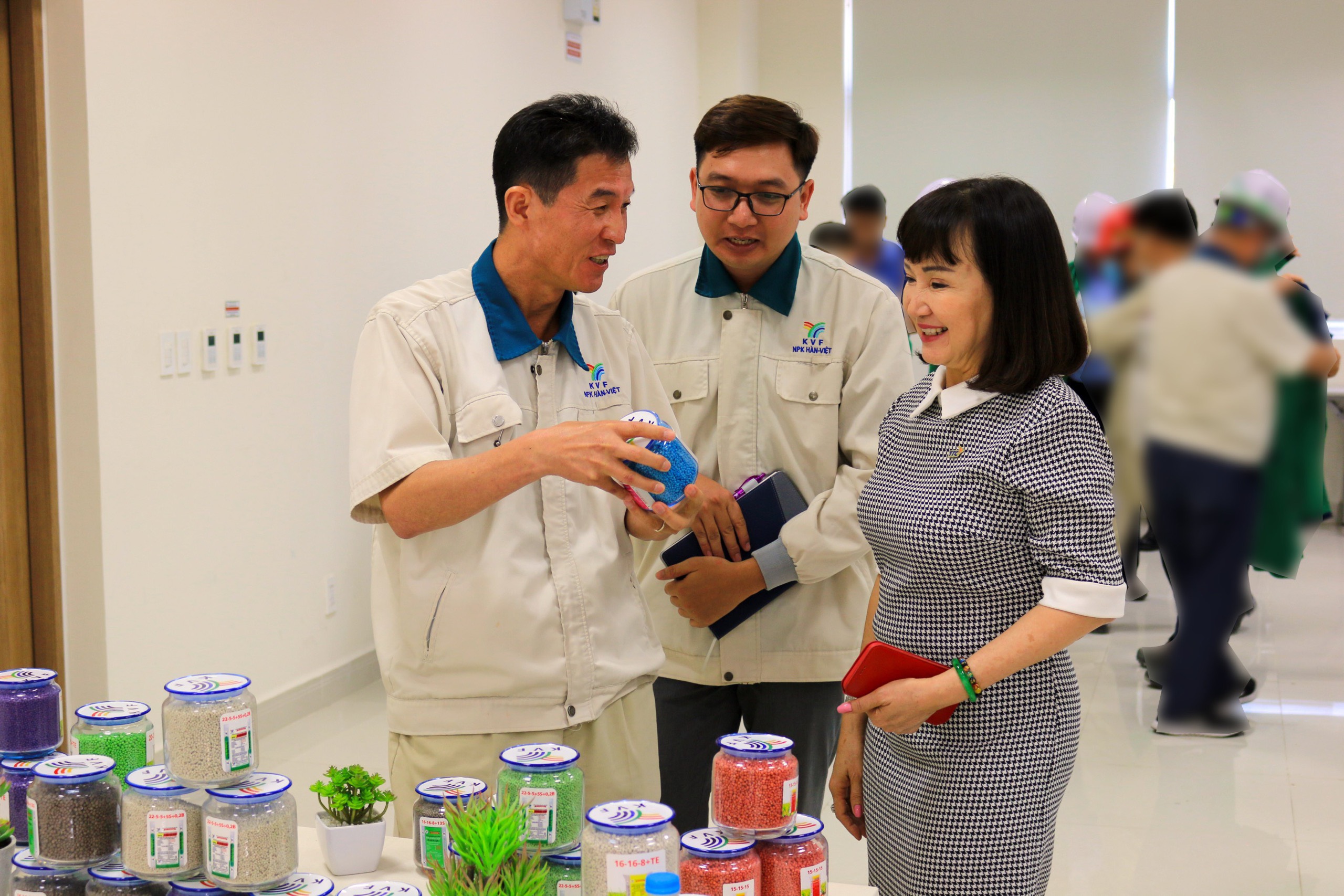 KVF's leadership respectfully accepts the suggestions shared by TTC's leaders. After having an agreement, the General Director of KVF directly instructed the staff in charge of expertise to approach and coordinate the implementation to achieve the best effect.
It is known that TTC Sugar - a member of TTC Group is a sugar company with a brand name of more than 50 years in the market, and has had a spectacular breakthrough when successfully consuming 1 million tons of sugar in the 2019 - 2020 year. , increasing the domestic market share to 46% from 42% of the previous year, aiming to become "Indochina's leading supplier of sustainable and sourced agricultural products". TTC Sugar constantly focuses on exploiting and perfecting the sugarcane value chain, providing the market with green energy solutions from clean production, converting the traditional agricultural farming model to organic farming, provides in-depth agricultural solutions for sustainable development goals.
________________________________________________________________________________
Korean-Vietnamese NPK: Korean hi-tech, Vietnamese agricultural products
KOREA-VIETNAM FERTILIZER CO., LTD (KOREA–VIETNAM FERTILIZER CO., LTD.)
• Address: Lot D10b, D3 Street, Hiep Phuoc Industrial Park, Hiep Phuoc Commune, Nha Be District, Ho Chi Minh City, Vietnam
• Phone: 028 3781 9281