Mr. Phung Ngoc Dam, farmer in Phuoc Tan Hung commune, said that his family grows dragon fruit on an area of ​​5,500 m2. At the time of harvest, the price of dragon fruit is only from 1,500-2,000 VND/kg, sometimes it can't be sold because businesses and cooperatives stop purchasing to fulfill the criteria to ensure epidemic prevention and control. COVID-19.
"With the selling price of 2,000 VND/kg, my family lost 20-30 million VND. In this situation, dragon fruit growers have to suffer, don't know how to improve," said Mr. Ngoc Dam.
And Mrs. Nguyen Thi Trinh, who lives in An Luc Long commune, said that for more than a week now, nearly 3,000 m2 of her family's dragon fruit is in the harvest season. Although the price was only 2,000 VND/kg, she still could not sell because there were no traders to buy. If transporting to the place of consumption, the cost is equal to or higher than the selling price of dragon fruit. Therefore, she sadly had to cut off the fruit.
According to Mr. Tran Thai Long, Director of Thanh Phu Long Cooperative, the cooperative is currently purchasing dragon fruit for 2,000 VND/kg, this is the purchase price to support farmers, in fact the price is only 500 VND/kg.
Every day, the cooperative buys 40-50 tons to supply green supermarkets and department stores. However, the cooperative is facing difficulties in cold storage and capital…so it is also limited to buy in bulk.
Mr. Nguyen Quoc Trinh, Chairman of the Dragon Fruit Association of Long An province, said that dragon fruit in Chau Thanh district is entering the harvest season with an output of about 15,000 tons. However, due to the epidemic, it was difficult to harvest, transport and labor. Currently, the Dragon Fruit Association is asking local authorities to support and remove obstacles for businesses to purchase and help people consume dragon fruits.
In order to help farmers consume all the output of dragon fruit waiting to be harvested, relevant departments and agencies in the province coordinated with Chau Thanh district to find solutions to remove and partially reduce the loss for farmers in the condition of social distancing. Association under Directive 16/CT-TTg of the Government.
Mr. Nguyen Van Khai - Chairman of Chau Thanh District People's Committee, said that the district is creating conditions for people to harvest dragon fruit, but with the motto of ensuring safety. The district provides a quick test for COVID-19 for all workers to harvest, workers at the enterprise's dragon fruit warehouses every 3 days, and eat and drink at the warehouse if possible.
Long An province has also asked the Ministry of Agriculture and Rural Development and the Ministry of Industry and Trade to support dragon fruit consumption; At the same time, relevant branches in the province connect the postal systems of the provinces to participate in consumption, mobilize warehouses to operate continuously to collect and reserve goods.
In addition, the Center for Disease Control of Long An Province (CDC) supported Chau Thanh district with 10,000 quick test kits for COVID-19 for workers harvesting, transporting dragon fruits and workers at warehouses to keep up with the collection schedule. Planning and consuming dragon fruit in Chau Thanh district.
In Lam Dong: According to the Department of Agriculture and Rural Development of Lam Dong province, in the last 2 weeks, vegetables and flowers have fallen sharply, while the price of fertilizer materials has increased, which has greatly affected investment in production. output of the people.
Through updating information, prices of agricultural products and agricultural materials in the districts of Don Duong, Duc Trong, Di Linh, Lam Ha and Da Lat city have fluctuated. Specifically, fruit and vegetable products such as tomatoes and climbing beans all dropped sharply from 6,000 VND to 8,000 VND/kg compared to the previous week. Vegetable items such as carrots, potatoes, kohlrabi... are less volatile. Leafy vegetables such as cabbage, cabbage, green salad, salad rolls... decreased slightly from 1,000 VND to 1,500 VND/kg.
Due to the impact of the COVID-19 epidemic, it is difficult to transport goods. The provinces with large consumption such as Ho Chi Minh City and the western provinces are being isolated due to the epidemic, so the consumption of agricultural products has decreased. Some leafy vegetable products grown spontaneously by local people are small, lack chain links, have a short storage time, cannot be consumed, and have to be uprooted. Areas with links, stable consumption market prices only decreased by about 10% compared to signed contracts.
Dalat flower products continued to decline sharply, especially lily flowers, leading to some areas of type 2 and type 3 flowers that had to be removed and could not be sold. Some other types continued to decline sharply, such as gladiolus, the price was only 15,000 VND/dozen, down 3,000 VND/dozen. Chrysanthemum flowers cost 3,000 VND/bundle, chrysanthemum branches cost 8,000 VND/bundle, gerbera flowers cost 6,000 VND/bundle, each type reduced 1,000-2,000 VND/bundle. The biggest drop is the Sorbone and Concador lilies, which are reduced to 10,000-15,000 VND, only 20,000-30,000 VND/bundle…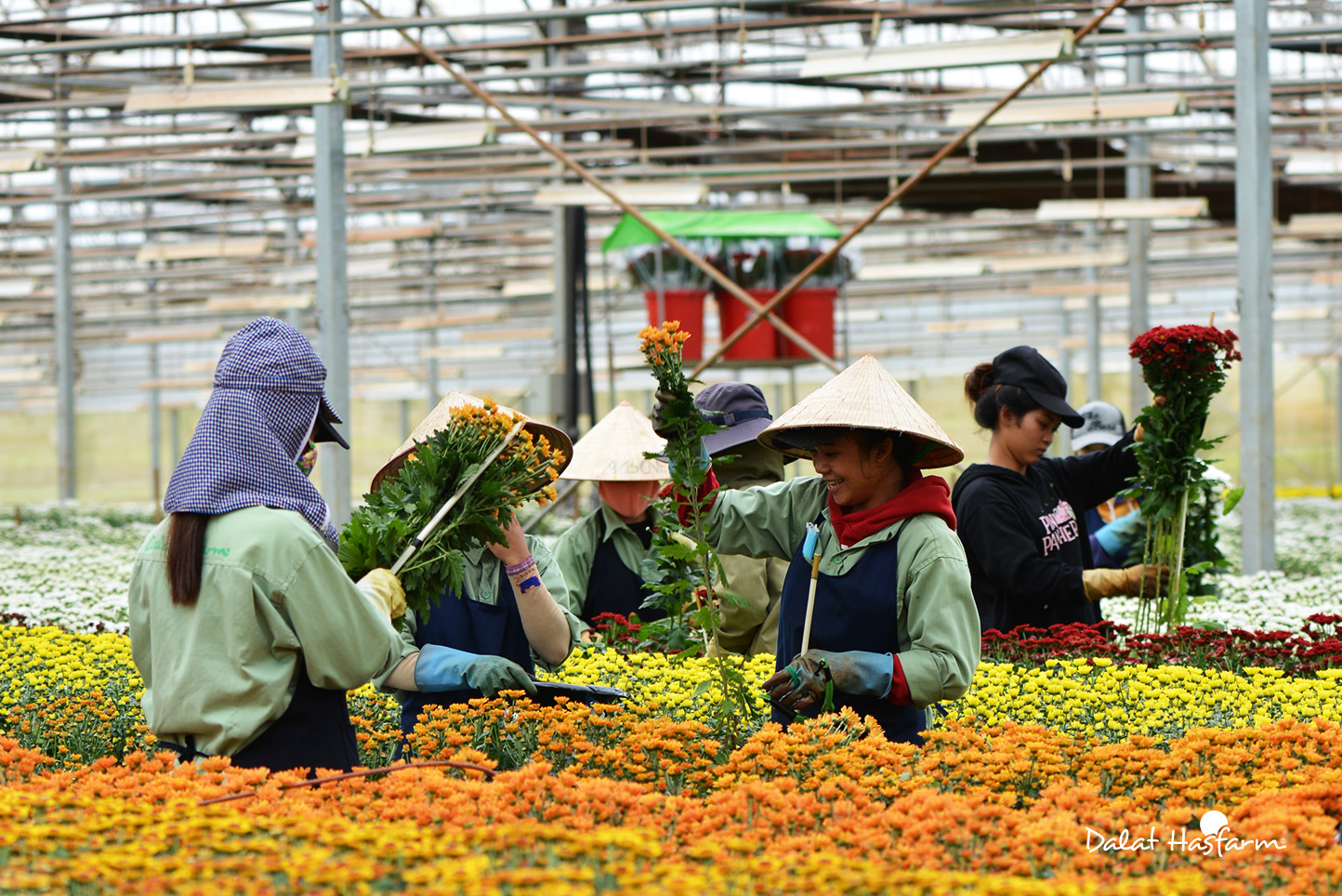 Unlike vegetables and fruits, some agricultural products in the area increased in price. Specifically, coffee with buckets costs 37,000 VND/kg, an increase of 3,000 VND; silkworm cocoons 120,000 VND/kg, an increase of 5,000 VND/kg. Particularly, the price of some types of cattle and poultry meat decreased slightly from 3,000-5,000 VND/kg.
Notably, while vegetables and flowers fell sharply, fertilizer products such as NPK fertilizer ... continued to increase in price from 30,000-150,000 VND/bag. With this price, it has greatly affected the production investment of farmers.
According to the Department of Agriculture and Rural Development of Lam Dong province, the high price of fertilizers is mainly due to the increase in the world market, causing the price of imported fertilizers to increase accordingly. Therefore, the prices of domestic fertilizers also increase, but in fact, the demand of the local market is also stable, the purchasing power has not changed much. On the other hand, due to the impact of the COVID-19 epidemic, it became more difficult to transport agricultural materials, which partly affected the prices of agricultural materials when reaching agents and users...
Source: Baotintuc.vn/ Reporters group (VNA)